One of the very special causes that CSCH supports each year is that of Child Advocates of Fort Bend, which focuses on helping abused and neglected children in our county. The organization will hold their 22nd annual Christmas Home Tour this weekend on Friday, December 13th and Saturday, December 14th. Visitors have the opportunity to enjoy the lavish holiday decorations and delicious refreshments at each home along the tour. We are proud that a Christopher Sims home in Riverstone will be included this year. Click here to visit our website portfolio of the home that will be featured on the tour.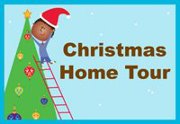 Fun facts about the CASA Christmas Home Tour:
With tour expenses at only 3% in 2011, most of the money raised goes directly into services for the children.
More than 2,000 guests visit the tour each year.
The tour is highly supported by local media; more than 400,000 people are reached by print media alone.
Nearly 1,500 volunteers lend their time and talent to put on this event each year.