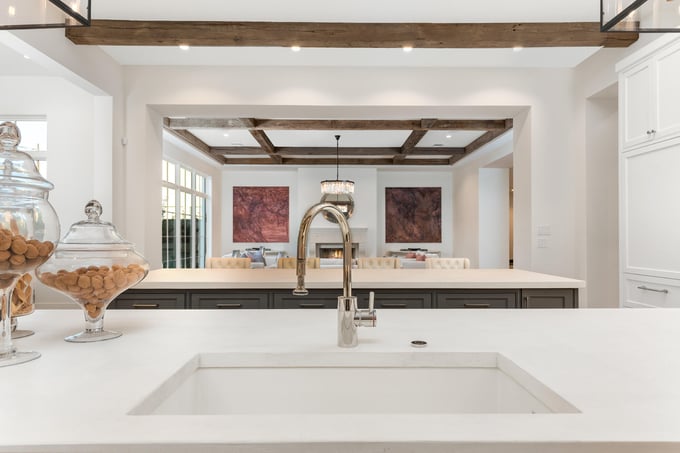 Before you visit a showroom to select plumbing fixtures for your custom home, there is a whole lot you'll want to know. In this blog post, we'll share with you all the tips and tricks to make the very most of your plumbing fixture showroom visit.
First of all, you may be wondering why you need to buy from a plumbing showroom in the first place. What's the difference between buying from a plumbing supplier vs. buying online or from a big-box store? The main difference is in the parts you don't see once they're installed. Plumbing fixtures from big-box stores like Lowe's or Home Depot have plastic internal parts whereas fixtures from plumbing suppliers have metal fittings, making them function better and last longer. As a result, the warranty on your fixtures is typically longer through a plumbing supplier than through a big-box store.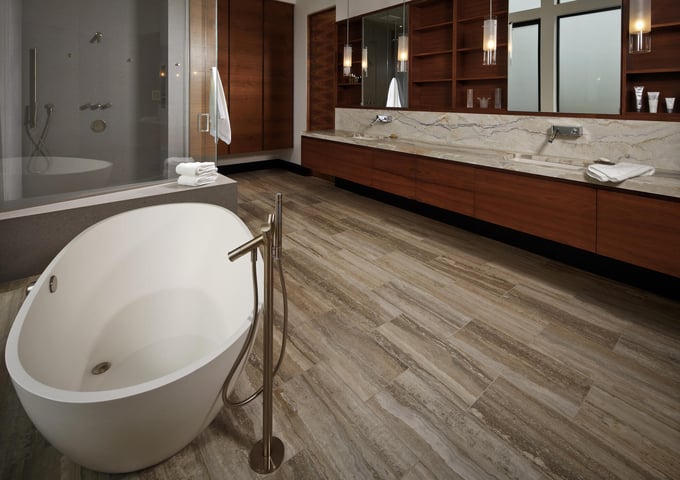 Tip #1: Make Plumbing Fixture Selections EARLY
One reason for selecting plumbing fixtures early is that the mounting location and types affect multiple items in the house. From drywall to countertops, the faucet and sink types make a difference in terms of prep work and proper placement. There are two parts to plumbing fixtures: the valve and the trim (the part you don't see vs. the part you see). Following the initial plumbing groundwork and rough-in, the plumbing fixture valves are installed. In order to install the right valve for your fixture (and in the exact right location), the trim selections need to be made early. If your plumbing fixtures aren't selected yet, then construction can be delayed or a bunch of re-work will be required to install the right valves in the right locations at a later date. Best just to avoid this scenario and select your plumbing fixtures early!
Curious about which other selections you should be making early when building a custom home? Download our Schedule of Design Selections here.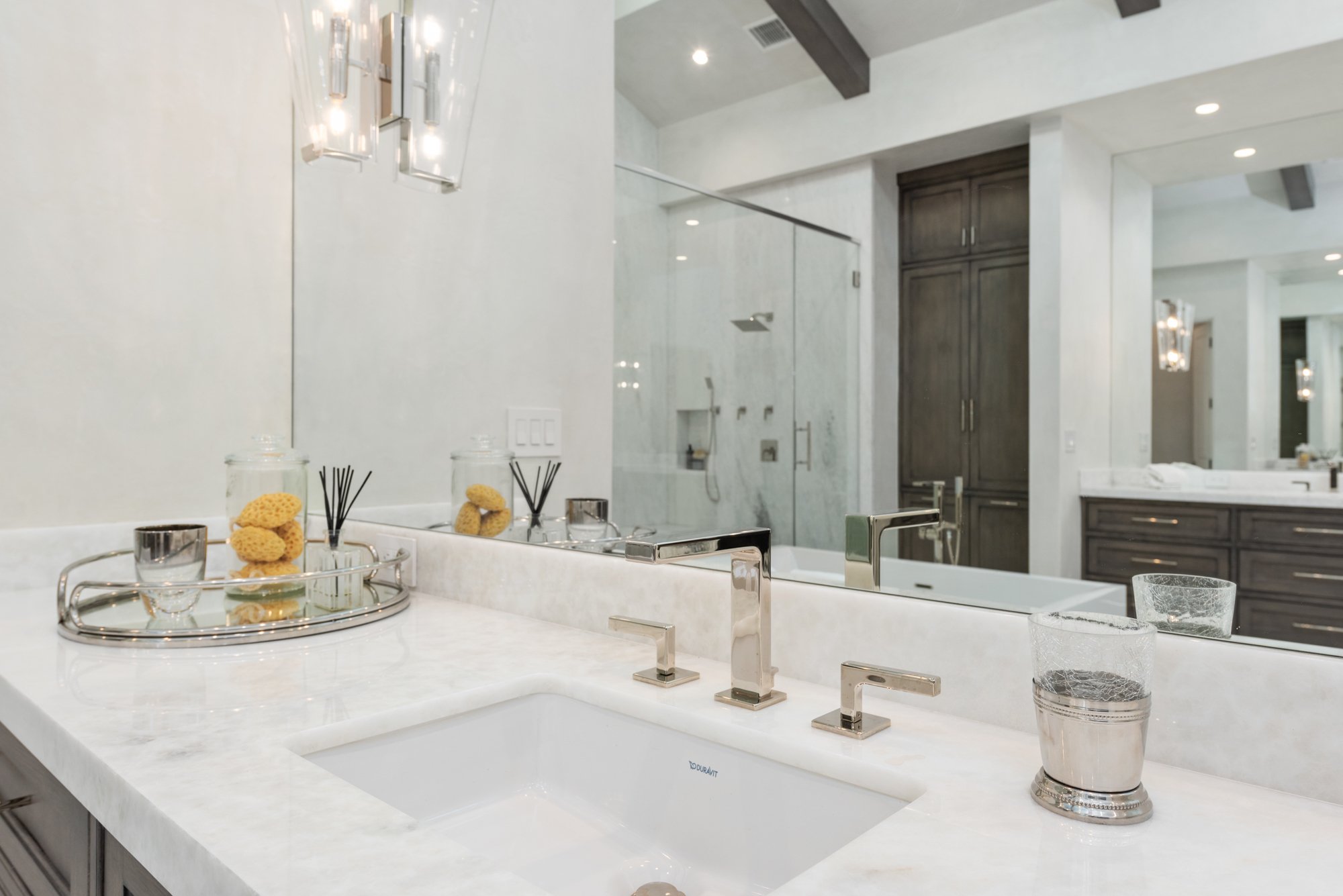 Tip #2: Make a Showroom Appointment
Your custom home builder (or interior designer) should help you set an appointment with a trusted showroom sales rep to make your visit as productive as possible. Giving your showroom rep enough time to prepare for your visit instead of simply showing up on the fly is definitely the way to go. Before you visit, an organized and effective custom builder will send your rep your architectural plans, a comprehensive list of plumbing fixture selections that are needed for your home, any inspiration photos you've provided, and clear pricing guidelines. We'll dig into these in the next tips.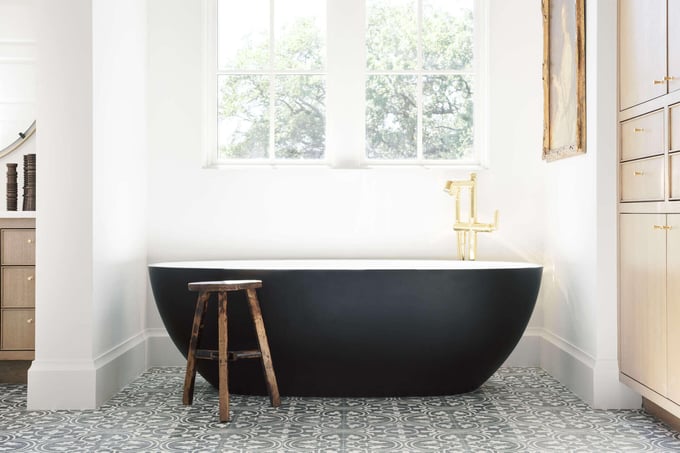 Tip #3: Get a Comprehensive List of Selections from Your Custom Builder
For each of our homeowners, we prepare a comprehensive list of selections that are needed for their entire home. We are able to filter this list by category in order to help our homeowners stay organized when tackling selections with their interior designer. So, before they visit a plumbing showroom, we send them and the showroom rep a full list of every plumbing fixture that is needed throughout their entire home. The goal is to make our homeowners' lives easier by making sure they don't miss a single selection while they're at the showroom. Revisiting a showroom over and over again because one or two selections were missed is no fun.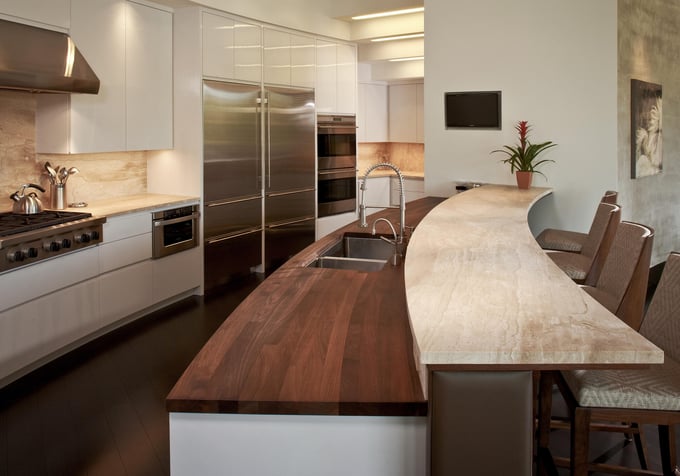 Tip #4: Ask Your Custom Builder to Communicate Pricing Guidelines
Something that always surprises homeowners is that comprehensive pricing is NOT calculated DURING your showroom visit. This can be a frustrating part of the plumbing fixtures selection process, and the biggest reason why your custom builder MUST communicate clear budget guidelines to the showroom BEFORE your visit. Ask your builder to send more than just a lump sum "allowance" amount. For each of our homeowners, we break down their plumbing fixture budget amount to show acceptable price ranges for each fixture they'll be selecting at the showroom visit. This breakdown is sent to the rep beforehand to help them better prepare which brands/lines/collections to show during the visit.
After your plumbing showroom visit, the rep will compile all selections (including rough-in parts, valves, etc.) and build a comprehensive proposal to send to you and your custom builder. This proposal will also include major savings from a "builder discount." Bundling is another way to save. More and more, plumbing suppliers are also supplying appliances, light fixtures, or other items. "Bundling," or purchasing multiple selections categories from one supplier, can save you an additional 3-6%, depending on the supplier.
Note sure how to find a custom builder who is organized, budget-conscious, AND high-quality? Visit our blog post on How to Choose the Right Custom Builder for You.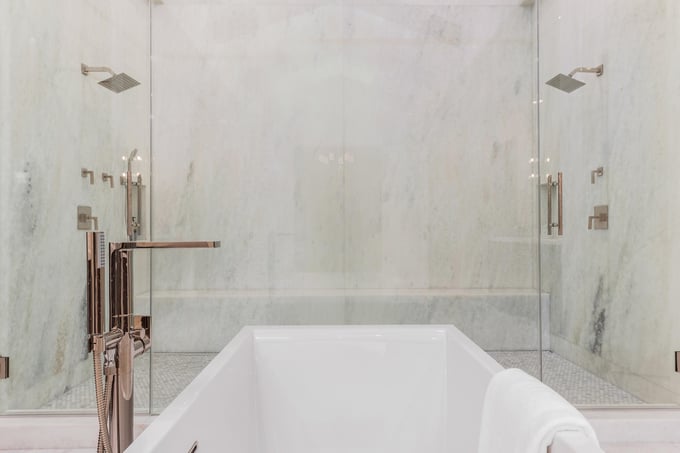 Tip #5: Send Inspiration Photos
You've probably been gathering inspiration photos since before you even started the architectural design phase for your custom home. Thank goodness, because these will come in handy once you start making selections! Have your builder or interior designer share your bathroom/kitchen inspiration photos with your showroom rep before your visit. Giving them an idea of your aesthetic will get their creative juices flowing and help them better prepare for you to come into the showroom.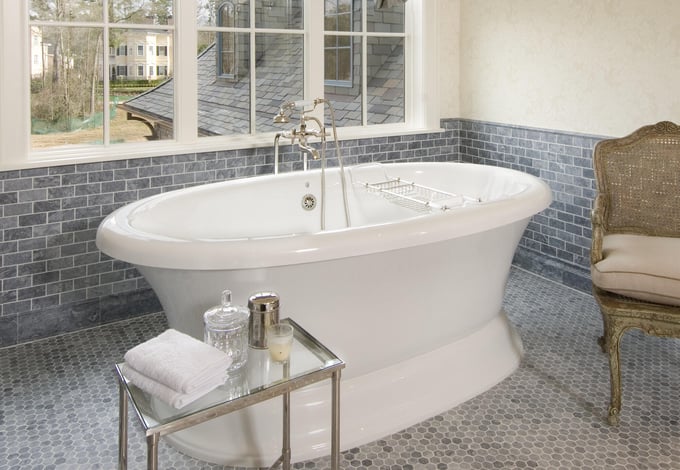 Tip #6: Bring Your Interior Designer
This is key. Your interior designer can be immensely helpful during your showroom visits. By now, you and your interior designer have likely honed in on your desired aesthetic and he/she will help keep this vision at the forefront as you look at dozens of plumbing fixture options. Without your interior designer there to keep sight of how all selections will work together in the home, it's easy to get overwhelmed or frustrated, start to question yourself, or experience decision paralysis.
Interested in how to select an interior designer and how to make the most of your partnership with them? Visit our previous blog post here.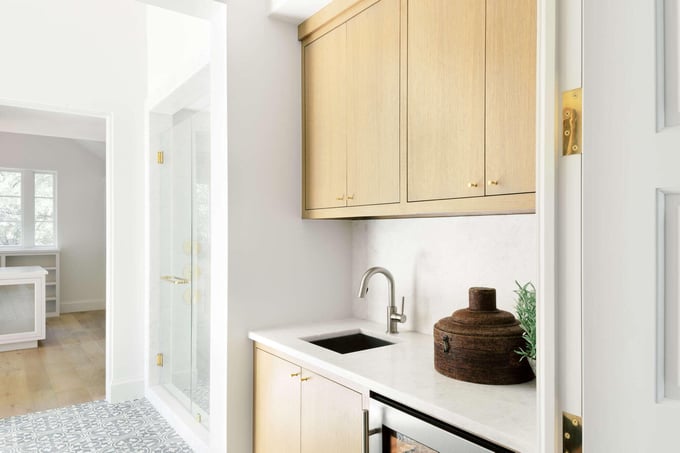 Tip #7: Be Strategic About Where to Splurge and Where to Save
There are a few areas in your home where you'll want to SPLURGE a bit when it comes to plumbing fixtures. Consider going "all-out" in your kitchen, master bath, powder room, and perhaps a bar area. These are the areas of your home that get the most use and also have the highest visitor traffic. Higher-end fixtures in these areas will get the most daily notice and appreciation from you, your family members, and your guests.
We advise our clients to SAVE on plumbing fixtures in their secondary baths and utility/laundry room. There are so many cost-effective options these days that will fit your style, function well, and not break the bank. For example, our homeowners often opt for a more economical undermount sink as opposed to overmount, vessel, integrated, or pedestal sink in their secondary baths. Likewise, they may save by selecting a counter-mounted faucet in order to splurge on a sleek wall-mounted sink faucet in their master bath. Or drop-in tub/showers may be selected for secondary baths in order to allow for a soaker tub and dream tiled shower in your master bath. As it is with all choices in life, you'll want to prioritize what's most important to you and make some concessions on the rest.
We hope these tips help as you prepare for your plumbing fixture showroom visit. If you'd like more information and resources, check out Ferguson Showroom's helpful checklists here.