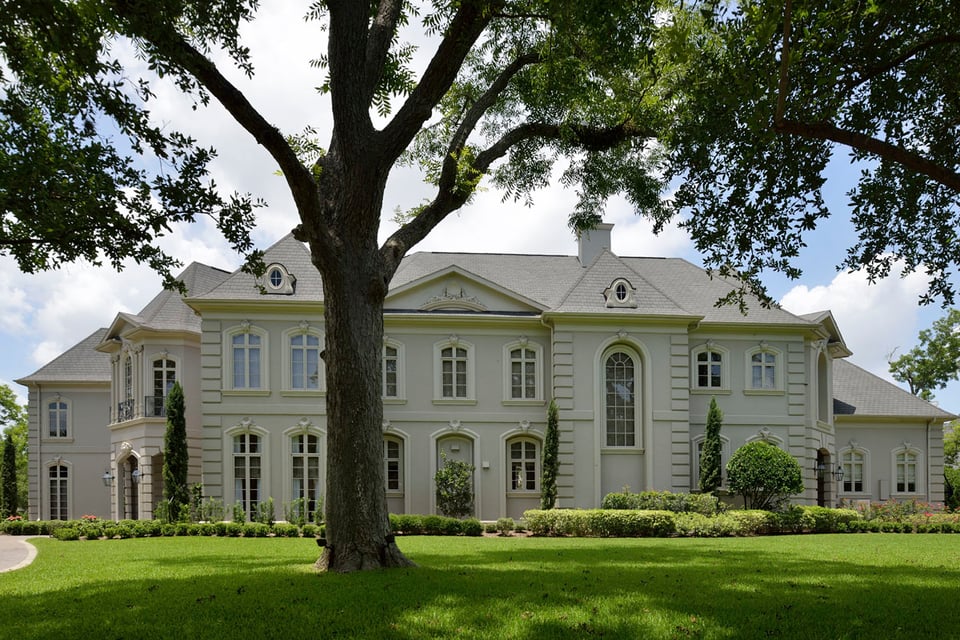 To build or not to build, that is the question. We often get asked by homeowners whether we think they should renovate their existing home, or build new. The answer, of course, depends on your unique situation, how far off your existing home is from your dream, how you feel about your current location, and what your financial goals and future plans are either way. The important thing is to consider what each path offers.
Both renovation and building new have advantages. So much depends on your budget, the type of home you want, and other considerations. It's truly up to you which you choose.
You may begin by thinking of renovating, only to find the costs or changes you want are not feasible. Alternatively, you may have wanted to build a custom home only to find your "almost" dream home already built; it just needs some TLC or a few changes to match your lifestyle.
Let's have a look at what you can expect from renovation and building new, learn about the advantages and disadvantages of each, and the various considerations you must make before determining which to choose.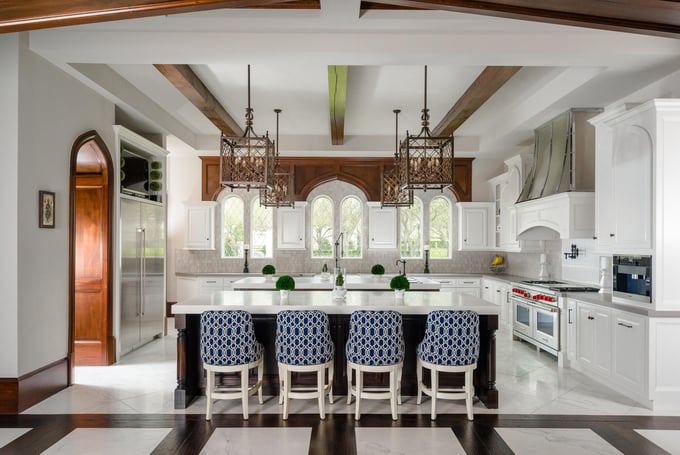 Renovation and New Construction - An Overview
The term "new construction" is pretty straightforward. The house is designed and built from the ground up. Everything is newly built and installed. Renovation is the term used when you want to make changes to an existing structure for various reasons.
New Construction
When you decide to build a custom home, you and your team (architect, builder, and interior designer) collaborate closely to make decisions about every element of your new home, from the architectural style to how it will be situated on your lot to what type of finishes will be used throughout.
Renovation
Renovation involves making changes to your existing home. A home renovation can cover anywhere from a single-room remodel to a complete interior gutting. You still have a lot of say in the final product, but your wishes must accommodate a space that is already created.
The Benefits of Renovating
Renovating a home has a bevy of benefits.
You retain a home you have lived in for years that is full of memories.
A renovated home can "reset" the clock on its age, to a degree.
For a small-scale renovation, you may not need to move temporarily.
Updates can make your existing home more environmentally friendly and energy efficient.
In historical neighborhoods, renovating an old home that still has the charm of yesteryear while supporting a modern lifestyle satisfies your love of the past, yet supports your modern lifestyle.
Or perhaps you simply need more room, a different floor plan, or wish for updates to your kitchen, bath, master bedroom, or living areas. Renovation covers a lot of territory.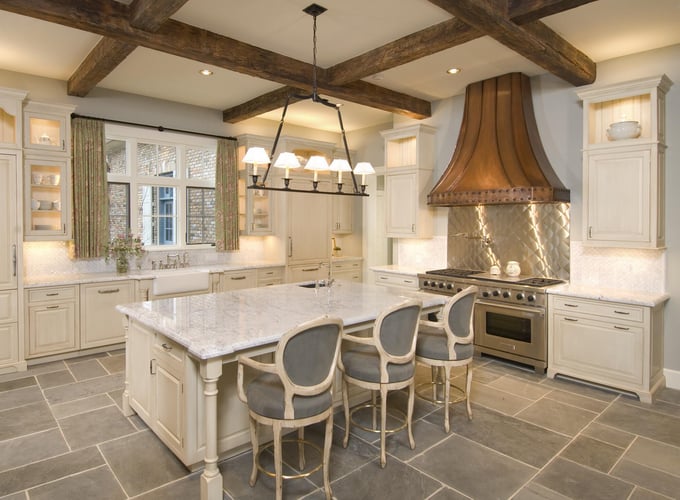 Considerations for Renovation
Before you begin to make any change to an existing home, you need to learn as much as possible about the house as it stands.
For example:
Is the home in a location that makes it worthwhile to renovate?
What budget should you stay within to keep your total home value at a saleable level?
Do you have access to your home's original building plans?
If you are renovating a historical structure, try to find out if any renovations have been made in the past, what they were, and why they were done.
Are there any hazardous materials that may preclude removal or construction in any area of the home?
Once you have learned as much as you can about the past of your home, dig into the structural soundness and health of the foundation as much as you can. If the foundation is cracked or the frame of the house is compromised, there is little use in spending a lot on renovations. Depending on the type and amount of damage, you may find demolishing the existing house and rebuilding to be a better choice.
Study the local restrictions and building codes, or bring on a builder/renovator early so that they can. Historical neighborhoods often have restrictions on the types of changes you can make to an old home. The restrictions are even tighter on a home that is on the Historical Register.
Ask your builder/renovator about changes in building codes since the house was built. Any new construction must meet the new codes. Will you need to rewire only the renovated portion, or must you do the whole house once the existing wiring is examined? Will the renovation still make fiscal sense if the mechanical systems need to be completely revamped?
Consider future maintenance. The parts of the home that are not renovated will likely require more maintenance than the newly built spaces. Bringing in system upgrades may reduce the number of repairs and replacement needed in the near future.
Finally, what is the intended use of the home that causes you to desire renovation? Are you just wanting a refresh? Do you want more room for entertaining or do you need room for children or aging parents? Are you making changes now so you can age in place? It might be helpful to also read our blog post, Common Issues When Renovating a Home and How to Prepare.
The Benefits of Building New
Building a new custom home requires a lot of decisions and planning, but there are certainly benefits to a brand new house.
Everything is new and under warranty. Your maintenance and repairs should be minimal.
You have the chance to use sustainable materials and design an environmentally efficient home.
You can plan for new technology, like expanding the electrical system to handle today's devices.
You have more options in design. You don't need to try to fit your ideas into an existing layout or structure.
You can choose the layout and floor plan that works for your specific project.
A new custom home on a chosen parcel of land means you can design and locate everything to have the best natural view. Everything is to your taste and needs. You start with a clean slate.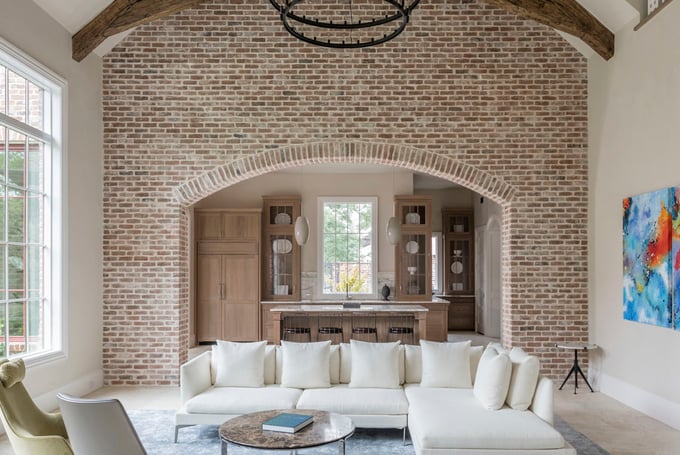 Considerations for Building New
Perhaps you are building because you want to move to a different location, or maybe you have decided to tear down an existing structure to build new. Consult with a custom builder and begin by discussing the site where you expect to build.
What are the local building codes?
What are the weather and the environment like? Do you need to build to resist extreme temperature changes or the possibility of high winds and hail? Are you in a flood plain?
How will the soil impact your plans and foundation design?
Are there restrictions in the neighborhood, such as following a specific architectural style, roof type, or color scheme?
What is the availability of various materials and contract labor?
When building a new custom home, put together your team (architect, builder, and interior designer) to help you answer these questions. Each member brings a different set of skills, experience, and perspective to the table. Together, they can help you design a future home that is perfect for you and your family.
As you design your home, consider its intended use. What sort of living areas do you need to fit your lifestyle? How much room do you need? Do you plan to age in place or will you have elderly parents or tiny children living in the home?
If you have specific ideas, now is the time to bring them out. If there is anything your new home must have, make sure the team understands what your needs are. Be prepared to go into detail, so everyone is on the same page. Also, since this is a new home, be ready to make a multitude of decisions, although your design and build team can help you bring those together and make the process smooth.
The timeline to completion for a new home is likely to be longer than for a renovation. While complex renovations can take several months, remember that new home construction requires time for approvals and permitting, site preparation, and all phases of construction. Consider also reading our blog post, Common Issues When Building a Custom Home.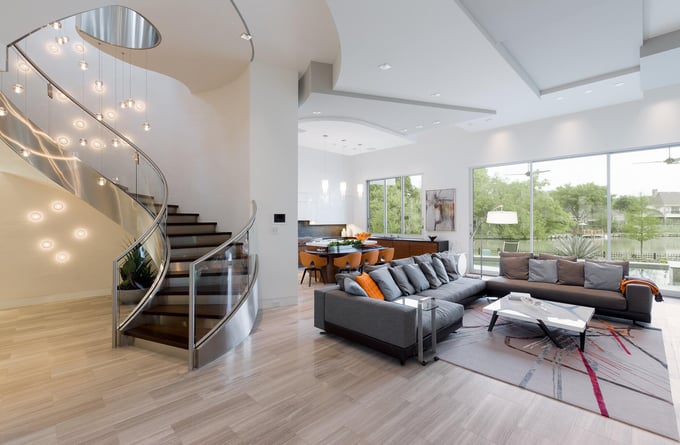 Comparing Renovation to New Build
The decision to renovate or build new depends on individual factors that are different for each person and situation.
With a new build, it is easier to determine a layout and floor plan; renovation limits the changes.
Building new vs. renovation timelines differ. If your renovation project is entirely interior, you should experience no weather delays. The weather can get in the way of constructing a new house until it is enclosed and weather-proofed.
The difference in costs depends on the extent of the renovation you are planning; however, there is always the chance that unexpected findings will cause costs to rise. A new house won't be hiding asbestos, rotted wood, or an electrical or plumbing system that doesn't meet code.
Your needs, situation, and budget help you make your final decision. Owning an existing home you love may make renovation the better choice. The wish for a home that is built precisely to your desires can push the decision towards a new build.
If you need help weighing your options, please feel free to reach out to our team. We are always here to help!