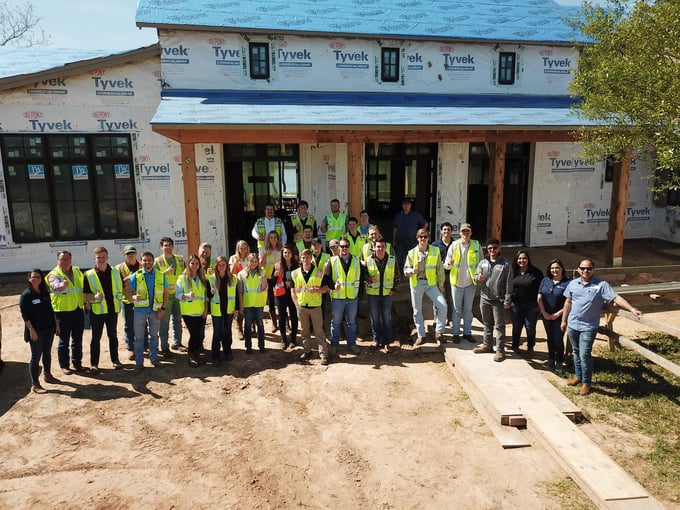 What do you say when you're offered the chance to host a field trip for tomorrow's most promising construction leaders? You say YES of course!
Last week, we had the pleasure of showing over two dozen students from Texas A&M's Department of Construction Science two of our current projects. It was a day filled with touring, answering questions, and sharing best practices about the most interesting (in our opinion!) field of construction: high-quality and architecturally authentic luxury homebuilding. Each year, upper class students from the program choose from a handful of field trips to gain understanding and firsthand exposure to various aspects of the construction industry. It's rare that the students get an opportunity to see high-end residential construction in action, so we were thrilled that our field trip option was one of the first to fill up. We tried hard not to disappoint!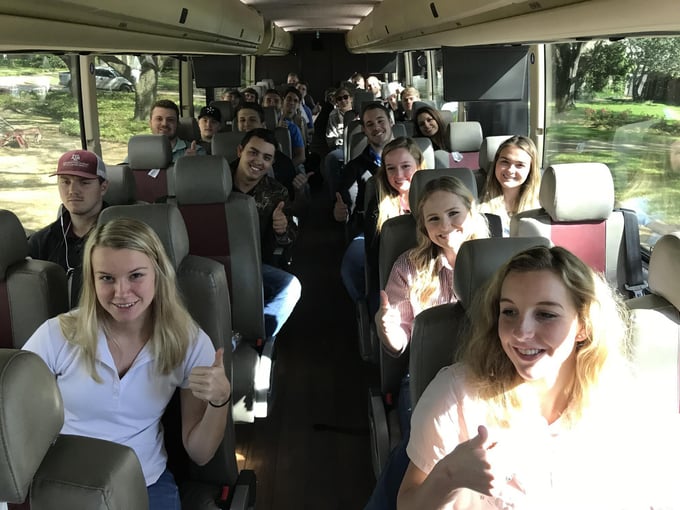 The students' first stop was to our nearly-complete Green Tree Showcase Home to see the best of high-quality architectural design, finish selections, and building materials and methods. From unique Minnesota stone and a Spanish Samaca slate roof on the exterior, to Cantoni cabinetry and French white oak flooring throughout the interior, the design selections on this home are certainly showcase-worthy. We shared with the students that it's not only important to us that what people SEE is high-quality... it's also paramount that we use the very best building materials and methods behind the walls as well. Some examples illustrated to the students during this home tour were:
The HVAC system in this home incorporates anti-microbial ductwork and a dehumidifier to ensure the highest indoor air quality possible.
We utilized ZIP System exterior sheathing and spray foam insulation to ensure a tight building envelope.
The wall paneling in the library and dining room was installed with an air gap to mitigate thermal intrusion and prevent mold growth.
Th

is home's

structural foundation used 100 piers to accommodate Houston's

expansive clay soil.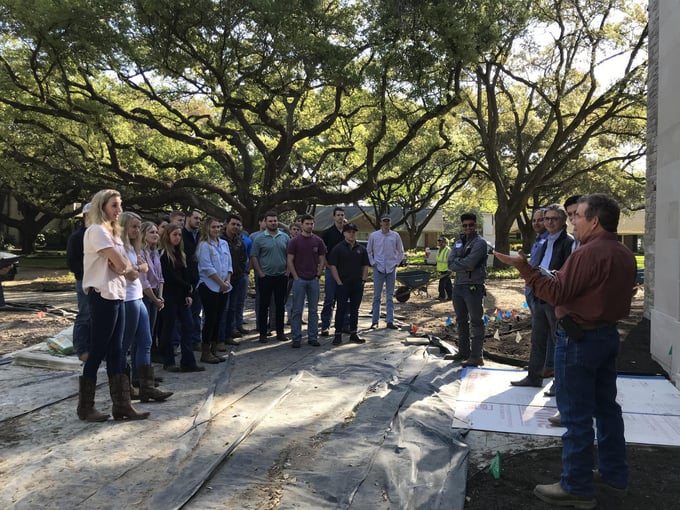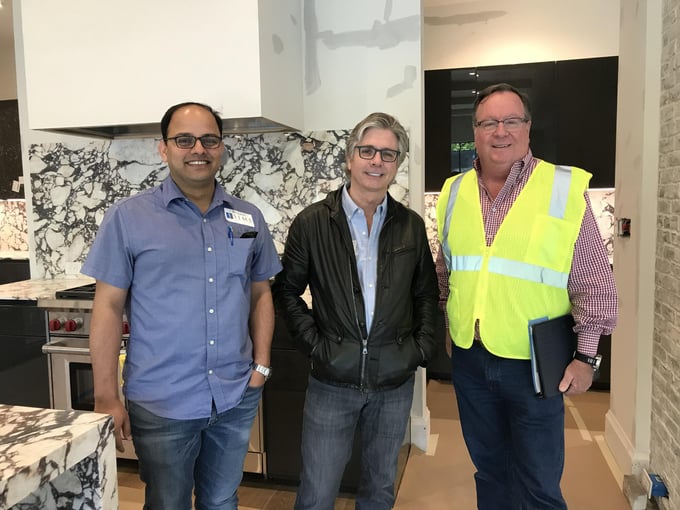 Our next stop was an extremely unique project for the students to visit: our LEED Platinum home on a beautiful 10-acre waterfront property southwest of Houston. Not only did we have Michael and our project team on site to speak to the students, but our homeowner also gave an inspirational presentation to them as well. He was able to share his passion for environmental conscientiousness and his commitment to creating a net-zero home, meaning the total amount of energy used by the home annually is roughly equal to the renewable energy created on-site. To achieve energy-efficient LEED Platinum status, this home incorporates many notable features:
Solar Array energ

y system and two Tesla Powerwalls

Geothermal heating and cooling system with dehumidifier
Water well and septic system, tankless electric water heaters, and rainwater harvesting for irrigation
Tight building envelope consisting of exterior continuous insulation, high-quality homewrap, and open cell spray foam insulation
La Cantina slider doors between main living area and rear covered patio, creating a vast indoor/outdoor space

PURPLE® drywall used in main living area and kitchen to prevent moisture, mildew, and mold growth from open

slider doors

Recycled-content standing seam metal roof
Grasscrete permeable driveway
Locally-sourced exterior stone as well as interior/exterior smooth cedar posts, beams and trusses
Exterior stone installation using mortar net and weep screens for pest and moisture control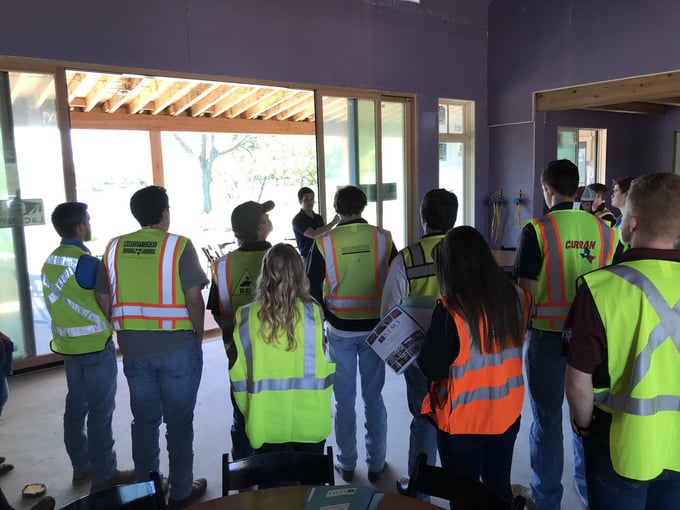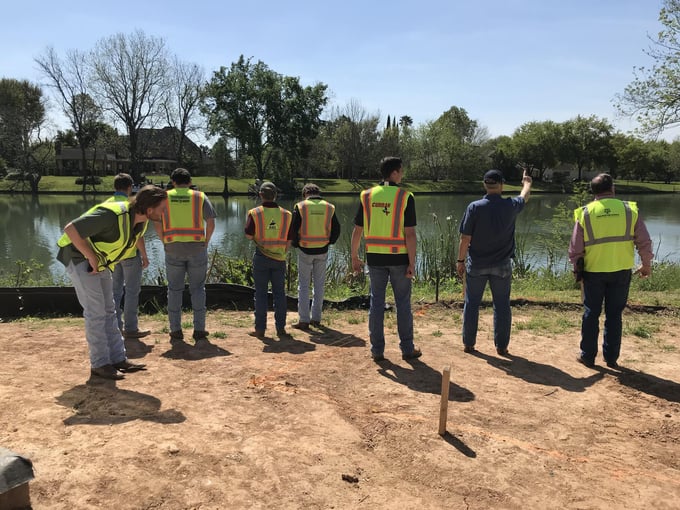 Before leaving our neck of the woods, the students enjoyed lunch with our team and then got to leave their permanent mark on the project by signing the TYVEK HomeWrap at the front of the house! A fun time was had by all.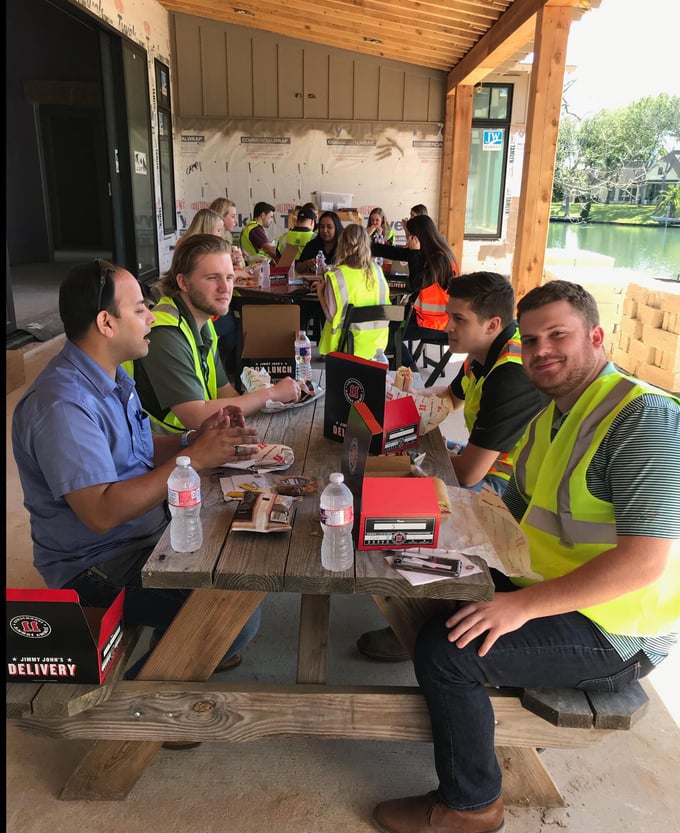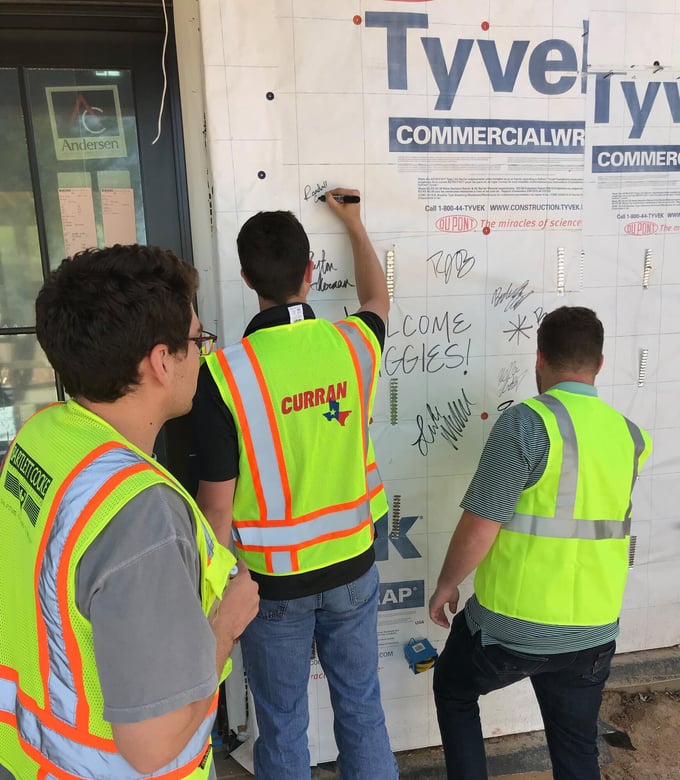 Throughout the years, we've had a number of team members join us from Texas A&M's Construction Science Department, so we know firsthand the quality of education and experience they provide to their students. Currently, we've got two CoSci Aggies on our team: our project manager and lead estimator, Aneesh Bhalerao, who holds a masters degree from the program, and our intern, Mykal Amboree, who has tackled and elevated EVERY task he's been given so far this semester. To say we are grateful to the Texas A&M Construction Science program is an understatement, so it's only right to give back and host a field trip for them any chance we get. A special thanks specifically to Professor Randy Birdwell who accompanied the students on the field trip and who works hard every day to prepare these young leaders.
With these students as the next generation of leaders in our field, the future of high-end residential construction in Houston looks bright!