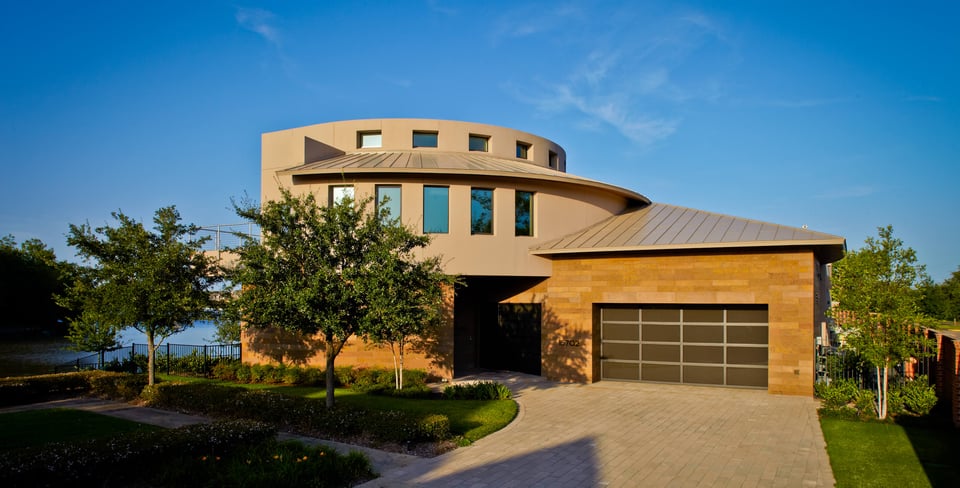 One of the first decisions you make when building a custom home is selecting an architectural style. This is an excitingly creative process in which you find a style that speaks to you while adhering to any homeowners association and deed restrictions that may exist in your neighborhood.
To help you begin this journey, here are some tips to help you identify the style that best suits you, along with an overview of various custom home architectural styles.
How to Identify Your Style
When thinking about your dream home, you have plenty of resources at your fingertips that can help you learn what you like and what appeals to you and your family.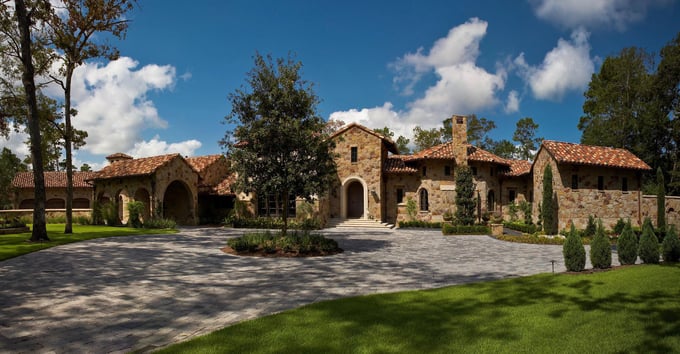 Drive through custom home neighborhoods and take photos of homes you appreciate. In Houston, try the Tanglewood, West University, River Oaks, and Memorial Villages custom home communities.
Go online and save digital images of home styles that appeal to you. Centralized resources include Houzz, Pinterest, Instagram , Homebuilder Digest, and Dream Home Source.
Look through magazines for inspiration. Some great choices include Architectural Digest, Luxe, Dwell, House Beautiful, Elle Decor, and Veranda.
Keep your lifestyle and environmental needs in mind.
And now for a dive into the various home styles.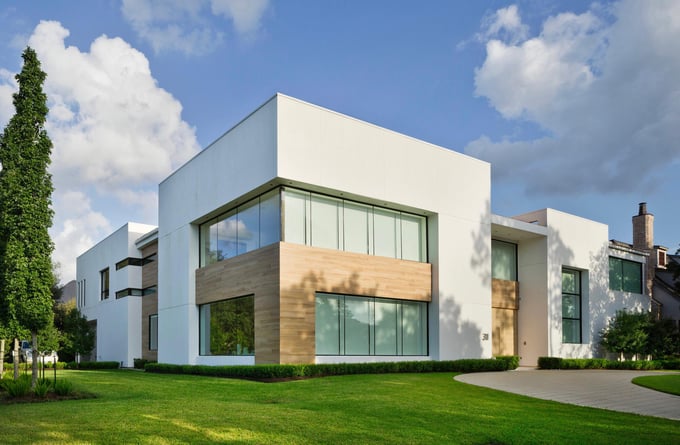 Modern
The Modern style is a geometric residence, oftentimes incorporating clean lines and a flat roof.
The floor plan is often open and spacious.
Solid white walls are common, with strategic splashes of color and texture throughout the home.
Windows are often expansive, sometimes floor-to-ceiling.
Typical materials are glass, steel, and reinforced concrete formed into unique exterior features.
Modern architecture, which is not the same as contemporary style, came on the scene in the first half of the 20th century. After World War II, it became the dominant architectural choice. The style was inspired by the historical art movement of modernism, which rejected traditional neoclassical architecture.
Modern architecture is perfect for southern climates where there is little snow and ice, but it fits in almost anywhere as a counterpoint or complement to both natural and urban surroundings.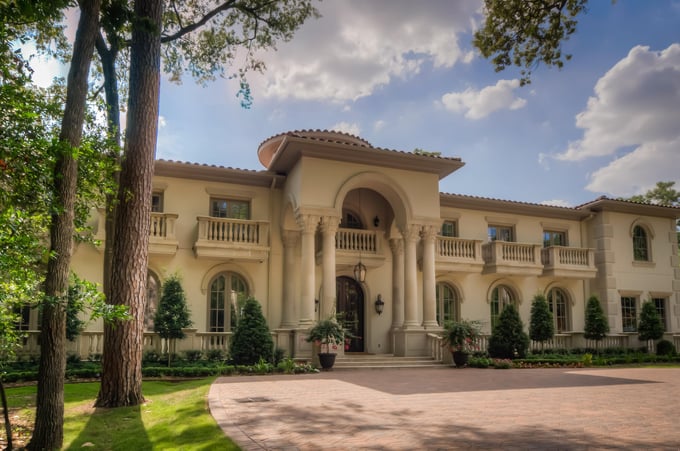 Mediterranean
Mediterranean homes are known for their excellent combination of indoor and outdoor living. Based on Moorish, Italian, and Spanish architecture, a Mediterranean house often provides generous, open outdoor spaces accented with plants and other natural elements.
The home can span two or three levels with a variegated roofline.
The floor plan is open and flows from space to space, indoors and out.
An asymmetrical layout is common with archways and exposed beams.
Roofs are often low-pitched and often incorporate clay tiles, similar to Spanish architecture.
The exterior is typically finished in stucco in white or earth tones.
Mediterranean-style homes are inspired by the seaside villas of the Renaissance. The open plan allows air to flow throughout to keep the environment cool and comfortable in a warm, humid climate. These homes are popular in coastal areas of the United States, particularly in southern Texas, Florida, and California.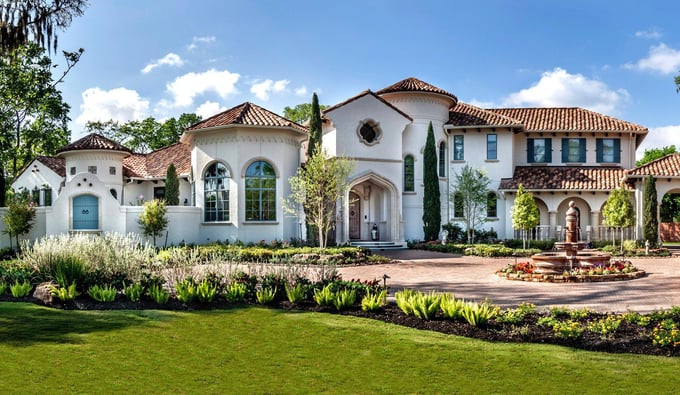 Spanish
Spanish architecture, from which Mediterranean styles borrow, dates back to the end of Spanish colonization of the Americas and is recognizable for stucco exteriors and red-tiled roofs. Traditional homes tend to have central courtyards providing privacy for outdoor living.
Spanish style homes are one to two stories with low-pitched roofs.
Wrought iron is a favored decorative feature.
Windows are smaller, allowing light without too much heat.
Doors and windows are created from heavily carved wood.
Spanish architecture includes Moorish Revival, Spanish Colonial Revival, and Mission Revival styles. Mediterranean settlers brought it to the United States, combining European, Mexican, and Native American design techniques and elements.
These homes are popular in warm, sunny environments like those found in the Southwestern United States.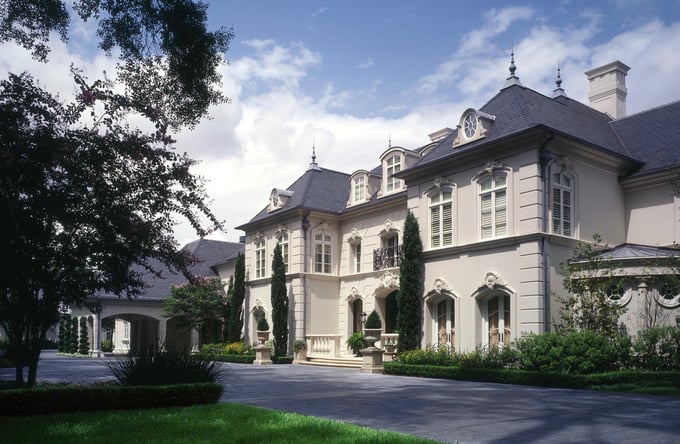 French Chateau
A French Chateau has elaborate features such as steeply pitched roofs and dramatic chimneys. The word chateau brings to mind an elegant residence with multiple rooms and striking curb appeal.
These homes can have three or more levels with ornate rooflines and exterior features.
Steep roofs with conical shapes topping turret-like features are common.
The main living areas can be relatively open, but discrete rooms are the norm.
Homes tend to be rectangular, presenting the longer sides to the front and back.
The French Chateau harks back to the medieval castles and keeps of Europe. It fits in well with grand neighborhoods of similar style.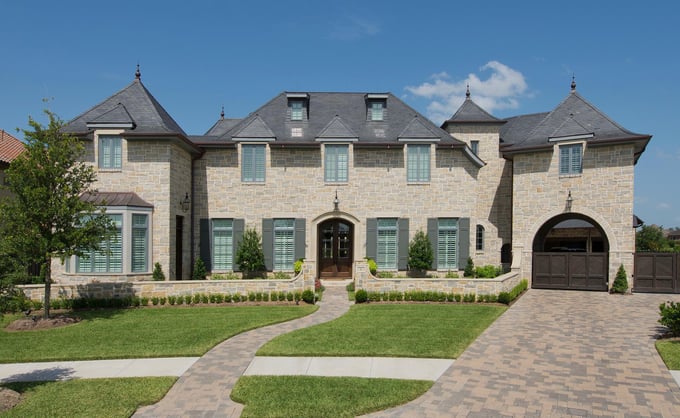 French Country
French Country homes, unlike chateaus, are simpler and less ornate. Rooflines are less extreme and the residences often smaller.
Hipped and gabled roofs are typical features.
Windows and doors are highly symmetrical. Windows tend to be tall, casement type openings.
Natural stone or antique brick are favored for the exterior.
The interior floor plan is often symmetrical and includes high ceilings.
French Country architecture is inspired by the grand country homes dotting Provence. It's an appealing choice for most areas of the country, particularly with residences of European styles.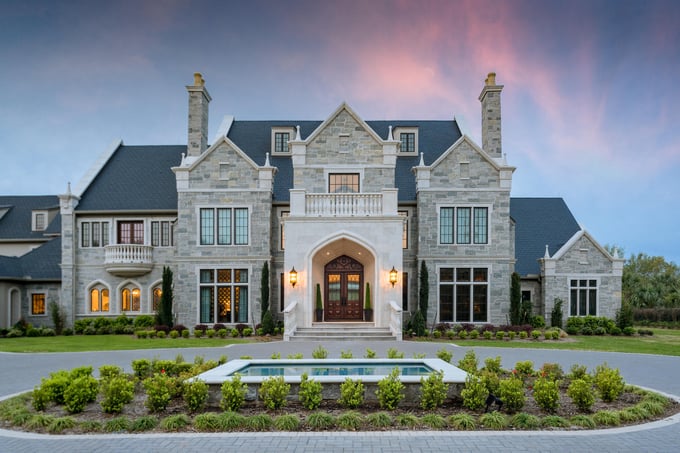 Tudor
Bringing historical English architecture (and perhaps a king or two) to mind, Tudor homes have multiple features, and the exterior tends to be half-timbered and decorative.
Roofs are steeply pitched with multiple gables. Eaves may go all the way to the ground.
Chimneys are often massive affairs with elaborate chimney pots.
Arched doorways are typical along with windows grouped in twos, threes, or fours with diamond patterns or stained glass.
The floor plans are less open, with distinct rooms featuring fireplaces.
The exterior, along with half-timber framing, is made of stone or brick, and sometimes incorporate stucco elements.
A Tudor home is perfect for indoor living and can be any size. The style is originally from England and is suited to snowy or rainy environments.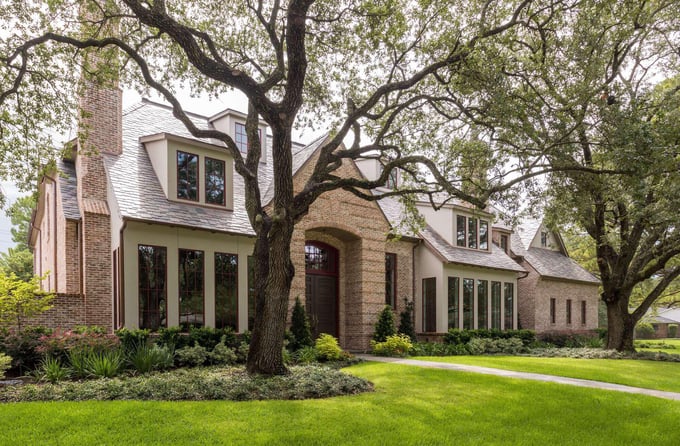 English Country
Like the French Country styles of Provence, English Country homes are found outside the cities and associated with the landed gentry. Very early homes were heavily fortified, but as time went on the style became more diverse.
Turrets and towers are standard features.
Baroque and neoclassical features are typical.
Divided windows set in rows allow in muted light.
Covered porches provide an area for outdoor relaxation.
The floor plans are less open, with distinct rooms featuring fireplaces.
The exterior often incorporates stone and/or brick.
Once a grand home for a feudal lords, the English County home is a favored style for large residences with natural textural elements.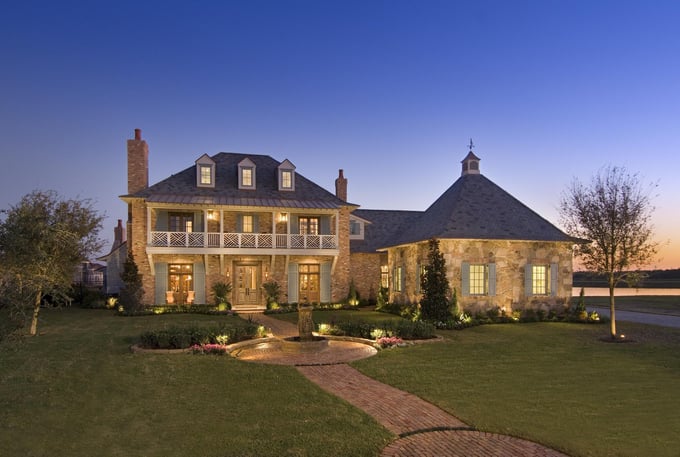 Acadian
Southern Louisiana is home to a distinct population with ties to France, Spain, and Nova Scotia. Rumor has it that crawfish started out as lobsters in Canada, but shrank on their journey south when the Acadians (Cajuns) were cast out.
Similar to French Country architecture, Acadian homes are built with a central hallway.
Two stories are typical.
Roofs may have cupolas allowing light into the upper story.
Rooms are on either side of the hallway with the kitchen sometimes at the rear of the home.
Exteriors typically incorporate siding and/or brick, and even mix in elements of natural stone.
Acadian architecture can provide a unique alternative to the Farmhouse architectural style.
Coming from the late 18th to early 20th centuries, the Acadian is built for living in any environment. The roof sheds rain and snow easily, matching the needs of coastal living.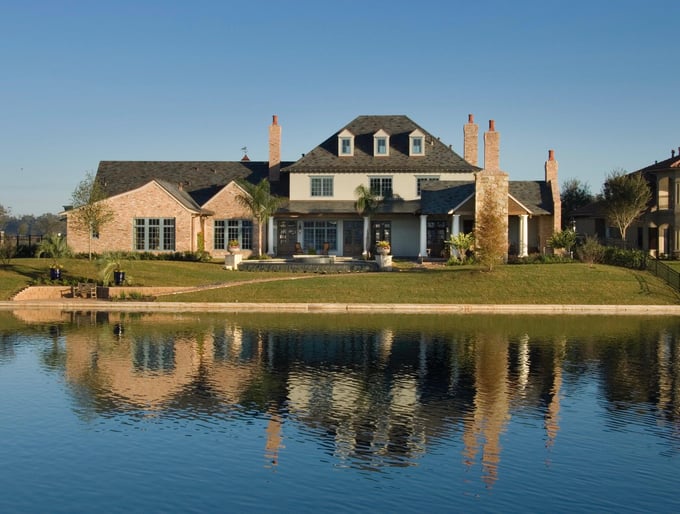 Farmhouse
An American style, the Farmhouse hales from the regional farms once found across the nation. Comfortable and family-friendly, the Farmhouse stands the test of time.
With a wide footprint, most are two stories tall.
Dormers and a pitched roof are typical features.
Many roof materials are appropriate for this style, including composition shingles and standing seam metal.
Often built with a wrap-around porch for outdoor living shaded from the sun.
Large kitchens, clean lines, and an abundance of natural light make up the whole of the home.
Farmhouse exteriors are most commonly wood siding.
Many farmhouse designs contain one or more fireplaces. Able to work in any environment, the Farmhouse is quintessential Americana at its finest.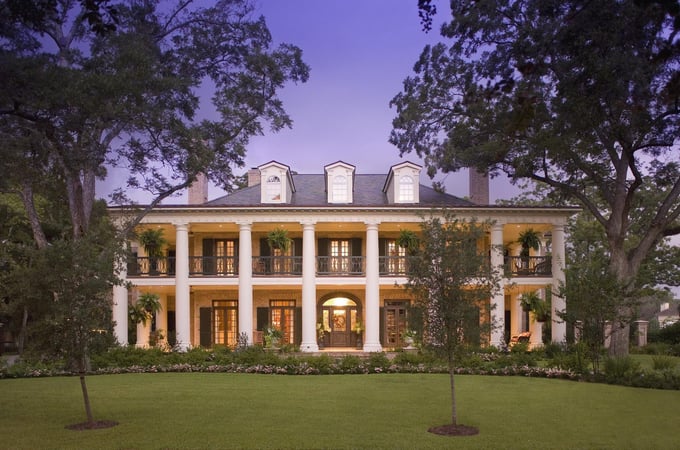 Greek Revival and Colonial
Greek Revival and Colonial architecture is known for towering columns holding up a multiple story front entrance. These homes bring to mind Greek temples and simpler colonial American times.
Simplicity and symmetry is the key to the Greek Revival and Colonial style.
Designs range from salt-box to Georgian style residences.
They tend to have low-pitched gable or hip roofs with embellished cornices.
Windows are symmetrical and stacked.
Exterior materials vary, but are often stucco, brick, or wood siding.
Colonial homes come with porches, Palladian windows, and a more formal floorplan that other styles. It first appeared in the 1820s and was popular up through the Civil War.
Craftsman
Similar to bungalow-style homes, the Craftsman was born of the Arts and Crafts movement of the early 20th century, starting in California. Influenced by Asian elements, the Craftsman peaked in popularity between 1905 and 1930. Today, they have reemerged as a popular architectural style in many parts of the country.
The style emphasizes natural materials, most often incorporating wood siding exteriors.
Symmetry is essential to the design.
Roofs are low-pitched, often with gables and overhanging eaves.
Front porches are wide with tapered columns or pedestals that extend to the ground.
Craftsman homes are richly detailed and homey. They fit well into neighborhoods with similar bungalow-style houses.
There you go - eleven architectural styles to help you get started on the design of your dream house. Have fun looking for the best design for your custom home! It can be a highly personal, creative, and enjoyable endeavor. As always, please feel free to contact us with any questions!