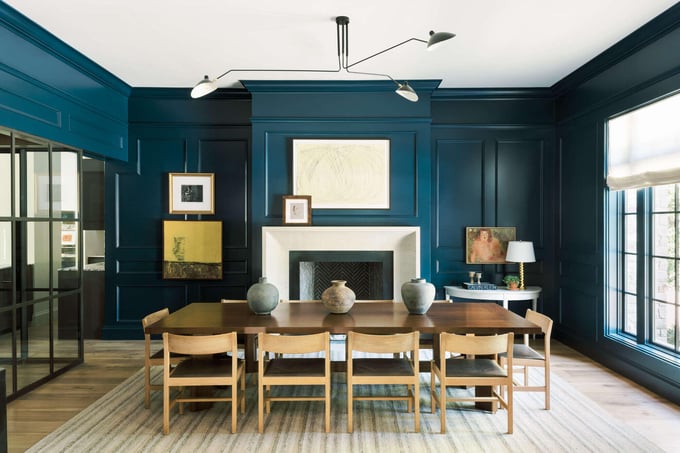 When life feels chaotic and overwhelming, people want comfort food and comfortable homes. We ask a lot of our homes in this day and age… to be fully functional, to meet our family's needs and lifestyle, to be "smart" in order to make our lives easier, to be a reflection of ourselves and our design sensibilities, to be a sanctuary from the outside world and a refuge from the hustle and bustle of everyday. A tall order, to say the least.
In the ever-evolving world of home design, we've identified five trends that we see as leading the pack in 2020. We also share some home design trends that are on their way out. Overall, we are seeing a shift from magazine-perfection to cozy minimalism, from monochromatic color schemes and industrial accents to rich colors and natural, organic design elements. All while incorporating the latest innovations in smart home technology!
Technology Is In
Home automation continues to grow more sophisticated and widespread. Google Nest and Alexa now perform many household operations from a single tablet, smartphone, or simply by voice command. There are several ways to automate your custom home and integrate smart functions into your living spaces.
Designer Benjamin Johnston is observing exciting trends like hiding speakers inside drywall and placing air-conditioning registers out of sight. It creates a "clean ceiling" where decorative light fixtures can be enjoyed without distraction.
Mechanized window shades integrated into a hidden wall or ceiling pocket is another trend Johnston is seeing. They allow you to show off clean architectural lines while controlling the light in the room with the touch of a button.
Clint Johnson, Principal of Newberry Architecture, says that smart switches, such as Lutron Caseta, are expanding the field of lighting control and home automation, making it more accessible and user-friendly.
As a whole, smart integrated products are continuing to gain favor in 2020 as we move toward optimizing our homes to better fit a modern way of living.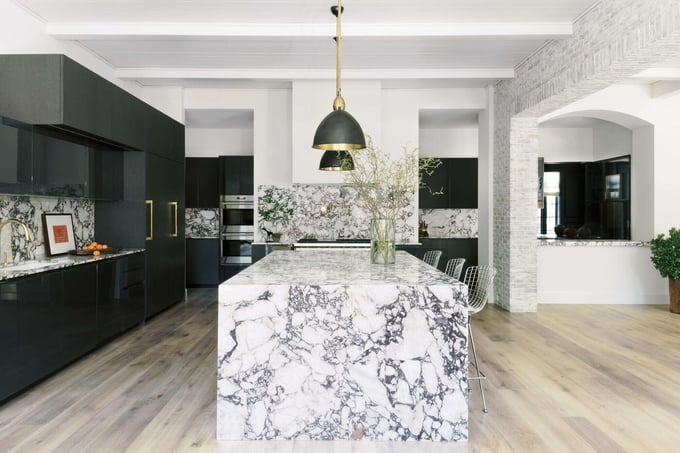 Universal Design Is the Future
Universal Design, or designing homes that can be accessible and comfortable regardless of age, disability or mobility, has been gaining popularity over the years. As the population ages and limited ability is becoming more common, universal design for not only homeowners but their family members is a rising theme. Mark Atkins of MASA Studio Architects sees accessibility and mobility brought to life by Universal Design as the most significant trend of the coming decade.
From seamless floor transitions and wider doorways to lever door handles and curbless showers with benches, there are countless Universal Design elements to incorporate into your custom home now that will pay off big in the future.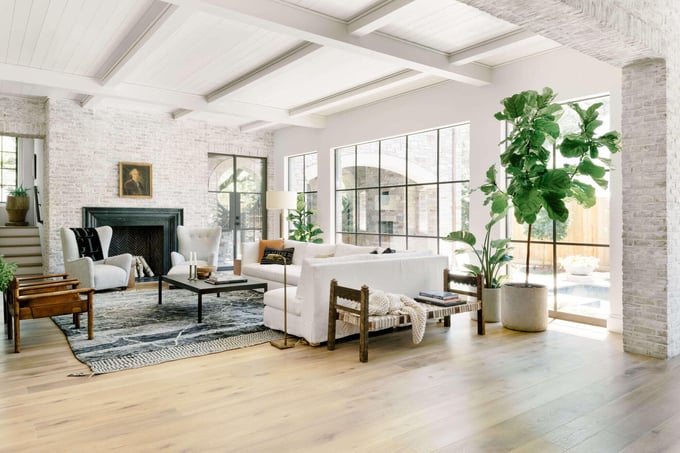 Blues and Hues
Pantone's 2020 Color of the Year is Classic Blue, a perfect contrast for interiors and exteriors. A deep navy blue ages well, providing a stately sophisticated look. Since high-contrast decor is still in, navy blue paired with white or lighter colors jazzes up a room.
White on white on white is out and rich colors are in, with blue and green continuing to gain traction. We're seeing a lot of cabinetry designed in deep hues, from cobalt to emerald to aubergine.
Even the neutrals are less neutral. All gray is out, while warm naturals, dusky peach, and slate lavender are the foundation for a more vibrant color palette of wines, olive green, and richer earth tones.
Fun bathroom designs with lots of color and a mix of materials is another trend for 2020. Wallpaper, bold colors, textured tile, and painted cabinetry are making their way into the intimate spaces of your home.
Another place dark, rich colors appear is on painted doors. The standard white door with matching trim has been replaced by boldly painted doors with artistic hardware touches.
Wallpaper sporting bold floral patterns with modern updates brings large scale accents and bold colors to smaller rooms such as the foyer or powder room. Metallics are available for an edgier look.
If you want to go big and bold, a trend toward washing an entire room in a single paint color is gaining traction. The walls, ceiling, and trim receive the same shade of color for a striking monochromatic look. Sometimes even the furnishings reflect the same color vein. It's both chic and enveloping, stimulating your senses and emotions while enjoying the space.
Going Subtly Au Naturel
Natural colors are still popular, but with a twist. An accent table stained in a dark wood-tone with light-colored hardware fits the bill — no more beige and banana leaf. Your living spaces need botanical prints, lush greenery, and real plants.
Furniture and accessories incorporating or replicating wood grains with contrasting hardware complement floral wallpaper. Add pillows, rugs, and upholstery with stone veining and organic substrates such as rope, raffia, and twine for a natural touch. Flora and fauna motifs abound in homewares, while organically structured lighting with metal and wood bases provide illumination.
Imperfect shapes and materials evoke a natural, organic feel that is very much in. The natural shape of hand-blown tinted glass and graining of wood accents build on this desire for nature in everything from furniture to lighting design.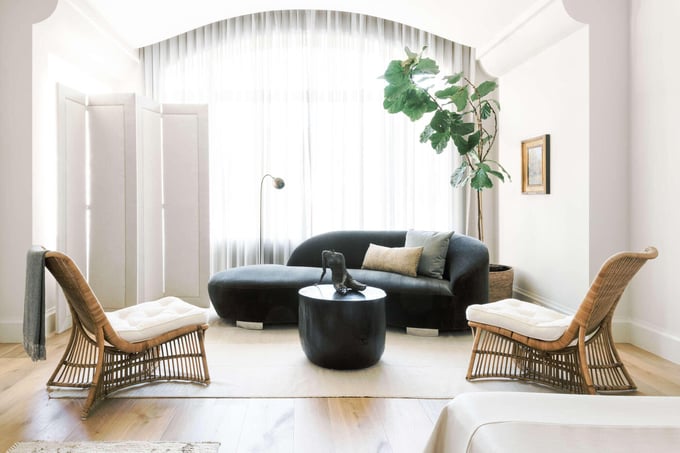 Layer the Old and the New
Worrying about whether your antique table matches your chairs or banquette? Don't! Creating a room using both vintage accents with a modern aesthetic shows the desire to go with what you like instead of clinging to a single design trend.
The "grand millennial style" blends elements of classic design from chinoiserie to natural fiber rugs with contemporary pieces of modern art and clean-lined furniture. Another up and coming trend is the interest in decor that shows the patina of age. Pair terracotta and clay elements with decorative pieces in earthenware and ceramic to give your modern spaces an organic look that is flexible and functional.
European touches are showing up on furniture in the form of spooled legs, sloping arms, and knife-edge welts. Traditional furniture is also embracing the trend with new German and Italian influenced silhouettes and features.
Curved couches from the 1930s and 1960s have made a come-back, as have canopy beds. However, today's canopy bed comes in a modern style using acrylic, metal, and sleek upholstery. No chunky headboards and heavy fabrics here.
Speaking of fabrics, performance fabric is what you want in all your rooms. They make the whole house functional for the entire family. Everything wears well, maintains its handsomeness, and fits both messy and luxurious rooms.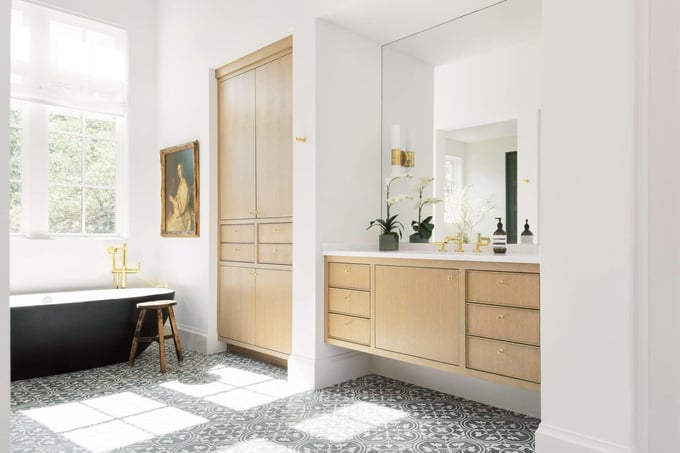 What's Out?
2020 isn't just a new year; it's the start of a new decade. A clean sweep seems to be in order. With brighter neutrals and deeper color palettes on the way in, it isn't hard to see what's on the way out.
Gray on gray doesn't really go with the warmer palette of today's design trends.
Pale monochrome color schemes seem to have gone from calming and safe to sterile and boring.
Perfection is absolutely out. There's no room for anything too precious in your sanctuary.
Heavy industrial design features such as hanging metal shelves and mechanical light fixtures with Edison bulbs are being thrown out in favor of warmer more organic elements.
Open shelving has proved impractical. You don't want to spend all your time accessorizing and tidying your space; you want to sit and enjoy it.
Accent walls. If you love it, cover the whole room in it.
Replace granite or marble countertops with quartz that looks exactly like those older materials. It's durable and easy to maintain.
Mirrored furniture is out, and translucent accent pieces of Lucite are in.
Fake plants have no place in your dream home. Real plants that grow and change are much preferred.
Designer Benjamin Johnston had this to say, "We believe that the days of single metal tones in homes and/or singular spaces are finally coming to an end…Now, we are seeing this trend giving way to two-tone fixtures that allow designers to have these intervals to play with."
Clint Johnson from Newberry Architecture stated, "The Modern Farmhouse trend has gotten a lot of attention in the last year or so, but I think that we will see a shift from this particular vernacular."
In Summary…
The look for 2020 includes lots of color, lots of flexibility, and lots of cozy comfort. Layering of old and new provides the opportunity to select pieces that speak to you and integrate them into your home with items you already own. Embracing rich, vibrant colors gives your eyes something to feast on while surrounding you with warmth.
Technology ties everything together, making it easier than ever to control your environment and maintain clean lines and open spaces. It also supports universal design, improving accessibility and mobility so that you can age in place.
Make your custom home a gracious and comfortable space for entertaining, being with your family, or just relaxing on your own. Incorporating these 2020 design trends into your current home or future home will surely guide you towards your dream living space.