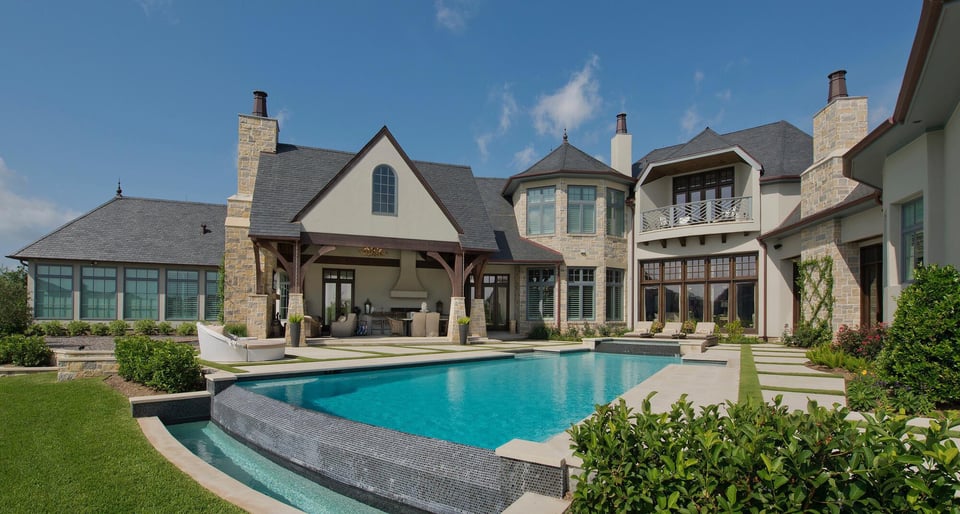 Everyone wants a home with great curb appeal. A lot goes into achieving that goal, including being selective about the architectural style, elevation design, and exterior materials for your custom home. You'll want to end up with a home that will stand the test of time, both in its attractiveness and its durability.
As is the case with most selections you'll be tasked with making for your custom home, there are countless options and variations when it comes to materials for the exterior. You have a broad selection of material types, colors, and textures. Hopefully you have a great builder to guide you through making the right choice for your home.
Let's first take a look at the criteria to use when selecting your home's exterior material, and then dig into each option in detail.

Selecting the Right Exterior Material for Your Custom Home
There are several factors to consider when choosing materials, from the architectural style of your home and neighborhood to the impact that material may have on your homeowner's insurance rates.
Architectural Style
The architectural style of your home will narrow down your options for exterior materials based on what is authentic and appropriate to that particular style. For example, if your home is a Spanish Mediterranean architectural style, your exterior will likely be of stucco and perhaps a little stone. You would avoid brick or siding because they don't fit with a Spanish Mediterranean architectural style. Likewise, you wouldn't use stucco on the exterior of your home if you are building a colonial-style home which is typically brick or wood.
Energy Efficiency
If you are interested in saving on your energy bill, choose materials with the appropriate insulation properties. The color you select also has a bearing on the amount of heat your home absorbs during the day.
Deed Restrictions, Covenants, and HOA Guidelines
In some locations, your selection of exterior design and materials is dictated by a deed restriction, covenant, or HOA guidelines.
Deed restrictions are agreements that restrict the use of a piece of real estate that are contained, unsurprisingly, in the property deed.
Covenants are legal contracts that spell out what you may and may not do to the exterior of your home. Covenants are typically found in the HOA terms rather than the property deed.
HOA guidelines are put into place to preserve a certain level of uniformity within a development or community.
Before purchasing land, review the deed restrictions and ask about any covenants or guidelines you may be required to follow for the design of your home. You may find our blog post What to Know About Permits and HOAs useful.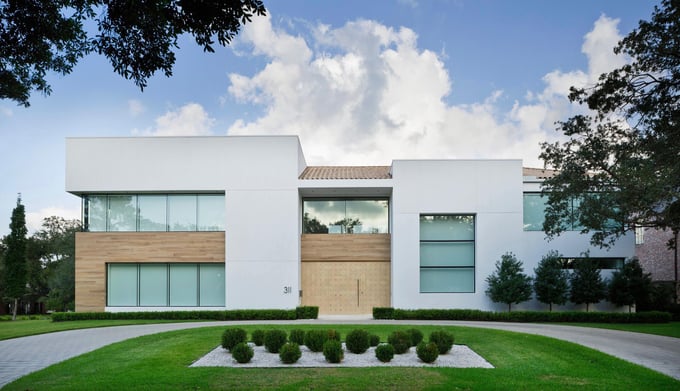 Local Building Code
While you may be able to appeal an HOA guideline, local building codes keep the construction in the area safe and ensure the design stands up to local conditions. Building codes often restrict materials based on their history of fire-resistance or durability against prevailing weather or seismic conditions.
Weather and Environment
As mentioned above, the exterior materials of a home are its first defense against extreme weather events such as ice and snow, driving rain, or high winds. The prevailing environment is a key factor when choosing materials.
Impact on Insurance
Insurance companies may have restrictions on the type of material used on the roof and exterior to mitigate expensive replacement and repair after damage or to limit the spread of fire. If you select a material that is more fire-resistant than another, you may get a break on your insurance rates.
Types of Exterior Materials

Stucco
Stucco has been used for centuries and provides a distinct appearance to your home. Many homes with stucco
exterior
s are designed for Modern or Mediterranean architectural styles. Traditional stucco is cement-based plaster containing sand and limestone and is applied to a mesh screen, wood, or masonry walls in multiple layers. The outermost coat is the desired final color.
Stucco can be painted but adds to the required maintenance of the home.
Pros:
Attractive curb appeal
Easily formed to create styling and design details
Durable when properly maintained
Insect and fire-resistant
Stucco can last 50 years or more
Cons:
Can be expensive
Has higher maintenance and repair costs than other materials
Susceptible to moisture damage if not correctly installed
Shifting ground and settling can create cracks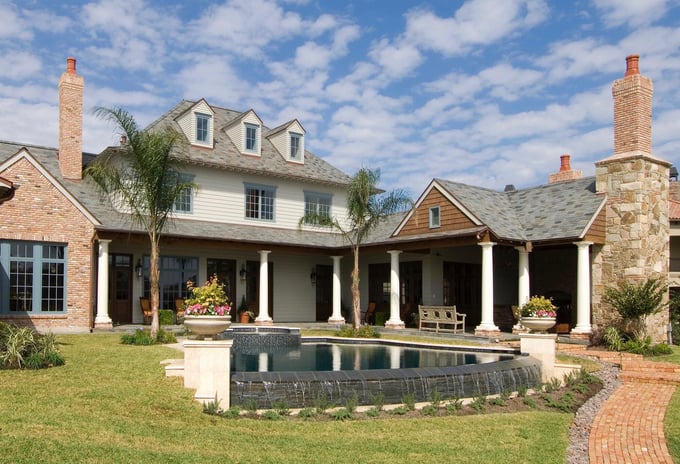 Wood Siding
Wood siding is a beautiful, time-honored exterior material available in a variety of woods including pine, fir, spruce, redwood, cedar, and cypress. You can also select an engineered wood, which incorporates real wood but is more durable, pre-treated against termites and rot, as well as easy and less costly to install. Wood siding creates a timeless, natural appearance.
Siding can be installed horizontally, vertically, or diagonally to create unique designs. Some siding may be paneled. Siding styles include clapboard, shakes, board and batten, shingle, and tongue-and-groove. Wood is 100% recyclable, thus a sustainable choice for an exterior material.
Pros:
Natural appearance and curb appeal
Easy to work with and can be painted or stained
Lifetime durability with proper maintenance
Well-maintained wood can last more than 50 years
Cons:
Not very fire resistant
Vulnerable to termites and other insects
Vulnerable to wood-chewing rodents
Rots, weathers, and sustains sun damage if not properly maintained

Concrete Fiber
Like stucco, concrete provides strength, durability, and environmental control. Concrete fiber siding is made of concrete mixed with wood fiber and designed to mimic real wood. Fiber cement can also be designed to look like stucco or masonry.
Hardicrete, HardiPlank, and HardiBoard are brand names for concrete fiber siding. The material provides sustainability by limiting deforestation and is exceptionally weatherproof. However, it is not as recyclable as wood is.
Pros:
Highly durable and has lower maintenance needs than wood
Can be painted any color wood can be painted
Fire, moisture, and pest resistant
May be warrantied for 35 to 50 years
Cons:
Can be heavy to handle
Requires special tools for installation
Brittle and may chip or break
If painted will require periodic repainting

Brick
Solid brick imparts a very traditional look to a home. Most solid brick homes have only a single layer of brick over a wood frame.
Pros:
Timeless appearance with low maintenance requirements
Comes in a variety of colors, textures, and sizes. Can be painted if desired
Good insulator, durable, low-maintenance, fire-resistant, and does not rot
Proof against pests
Can last more than 75 years
Cons:
Solid brick may allow moisture to seep through cracks
Cracks and crumbles under seismic activity
Tends to crack over time as the earth shifts

Stone and Cast Stone
Incorporating stone into the exterior of your home adds significant dimension and texture. For a more organic natural look, consider using chop stone. For a cleaner, more modern aesthetic, go with cut stone.
Cast stone is a faux stone product developed to look like stone at a lower cost. It is easier to control the shape and color of cast stone, which sometimes makes it an attractive complement to stone exteriors. Cast stone can last 30 to 50 years.
Pros:
Organic, natural appearance with low maintenance requirements
Good insulator, durable, low-maintenance, fire-resistant, and does not rot
Pest-resistant
Can last more than 75 years
Cons:
Impossible to control the exact color variation stone lots, as it is a natural material

Metal
Trending in popularity, metal siding is a versatile material that can be manufactured to appear like any other siding material. Typically created from steel or aluminum, metal siding comes in a variety of colors, textures, and shapes.
Pros:
Versatile, flexible, and comes in many colors and textures
Highly durable, lasting 30 to 50 years
Less expensive than wood
Resists fire, pests, weather, and mold
Highly sustainable, 100% recyclable, and is made from recycled material
Cons:
If the finish is scratched, the metal will rust
Shingle styles are more expensive than standard panels
Vulnerable to dents
Some finishes fade or become chalky
There are many great choices of exterior materials for your custom home. With the help and guidance of your builder, you can successfully evaluate your options based on local building code, HOA requirements, the level of maintenance and durability you desire, and, finally to give your home the look you want.