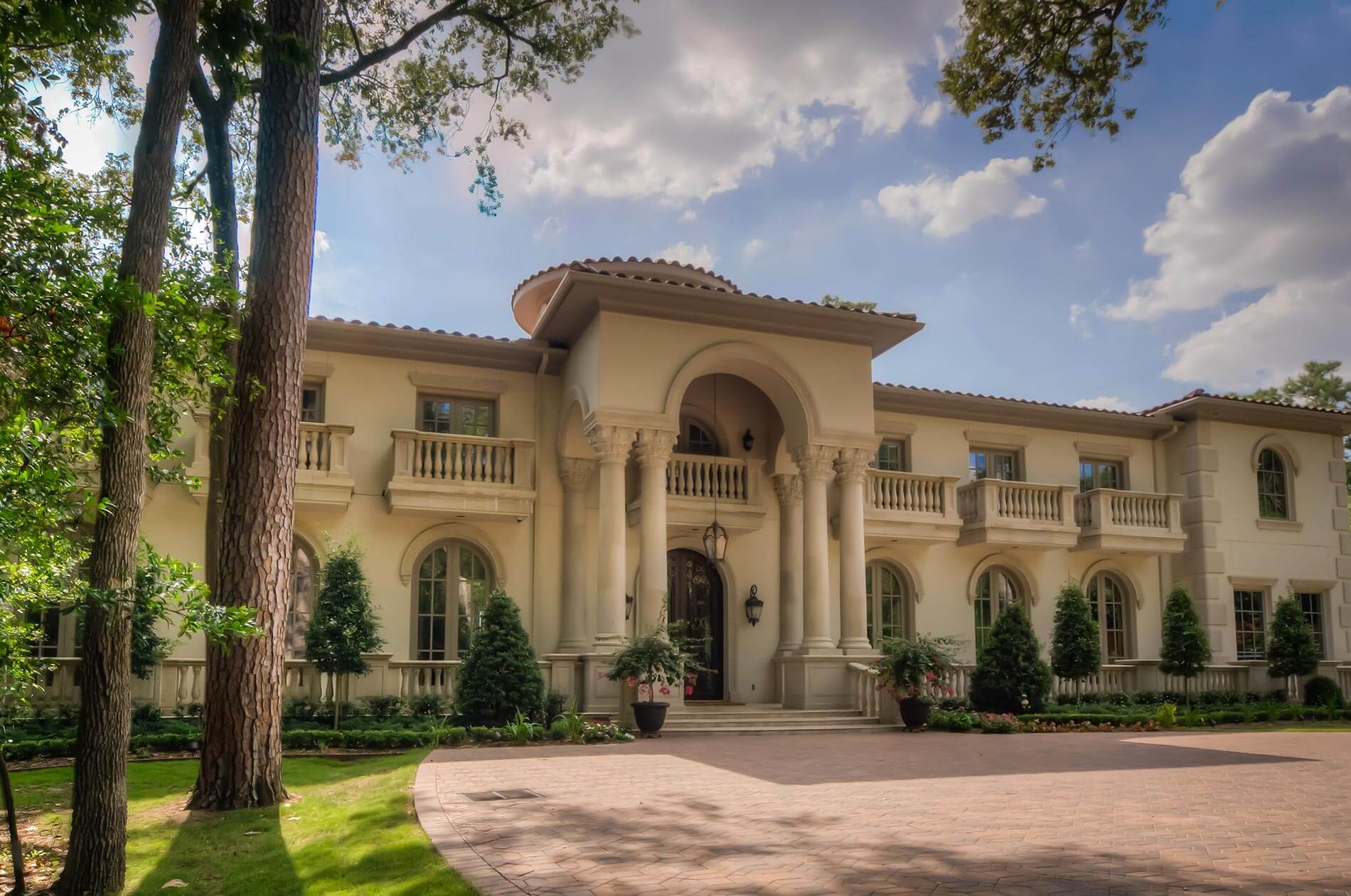 Houston has many luxury home neighborhoods throughout the city. Each has a charm of its own, with different amenities, architectural styles, and feel.
Building a custom home is an exciting experience, and the place to start is with the community. Take a drive around these neighborhoods. You'll see lots of well-maintained lawns and uniquely beautiful homes.
What is meant by the term "luxury home?" Here are some highlights of just a few of the well-known custom home neighborhoods in Houston.
What We Mean by Luxury Custom Home
Custom means a fully custom, one-of-a-kind architectural plan based on your desires and input. Luxury, on the other hand, means different things to different people.
The architectural style, amenities, interior design, technology features (A/V, lighting control, security, etc.), construction quality, and more add luxury to a custom home.
You may wish to have a universal design, which results in a home where you can age in place. It is designed so that anyone can use any part of the house, regardless of physical ability.
You might consider a highly energy-efficient home built with sustainability in mind. Energy efficiency and sustainability are both essentials in green building, a movement that supports the use of energy-efficient mechanical systems as well as materials that can be reused or recycled at the end of their lifespan.
No matter what luxury means to you, Sims Luxury Builders can help you design and construct the custom home of your dreams.
Now, where should you build? Here are just a few of the custom home neighborhoods Houston has to offer.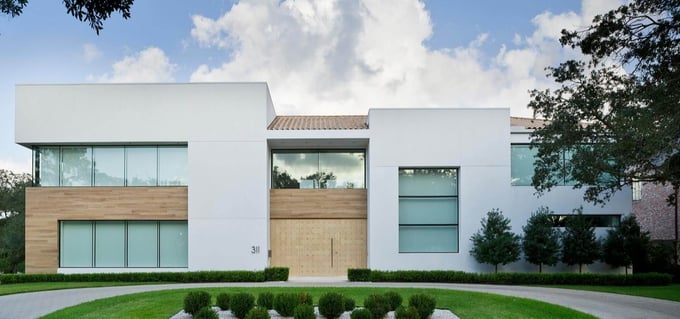 Tanglewood
Tanglewood was named after Nathanial Hawthorne's "Tanglewood Tales." The Tanglewood neighborhood in Houston is every bit as charming, with easy commutes to Downtown, the Galleria area, and the Energy Corridor.
Tanglewood is located on the western side of Houston, just outside the 610 Loop and inside Beltway 8 in Uptown Houston. Sitting just north of the Galleria, Tanglewood is considered one of Houston's premier neighborhoods, with a boulevard planted with live oak trees. Over 5,000 trees populate the rest of the community.
It's also one of the most expensive neighborhoods in the city. The median home price for a Tanglewood residence is about $1.75 million, which works out to over $300 per square foot. The existing homes have seen their value appreciate by 70% over the past ten years.
Many of the older homes are "Rambling Ranch" style homes. Newer homes were added in various styles, including English Tudor relying on brick and stone and Mediterranean stucco homes with tile roofs. Lot sizes range from 100'x150' to half an acre.
The Houston Independent School District operates the public schools. Also available are private schools such as St. Michael Catholic School, Al-Hadi School of Accelerated Learning, Strake Jesuit College Prep, as well as others.
For shopping, the Galleria and River Oaks District shopping centers are close-by.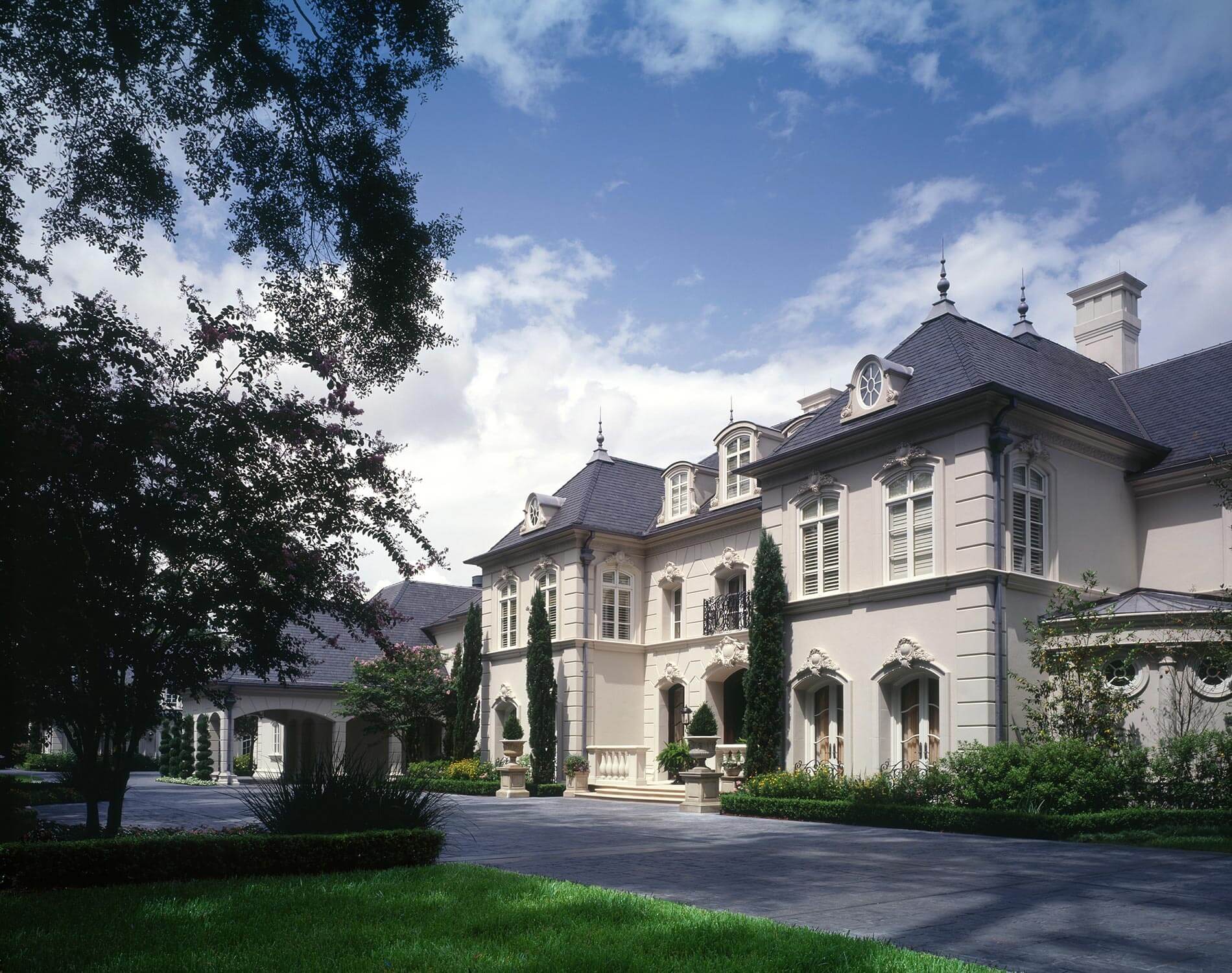 River Oaks
North of the Upper Kirby District, River Oaks is located in the heart of Houston, within the 610 Loop between Downtown and Uptown. River Oaks Boulevard runs through the center of the neighborhood and is lined with mansions and estates set back from the street.
This exclusive community is near many major thoroughfares. You can quickly drive to Downtown, the Medical Center, or the Galleria area. Parts of River Oaks are deed restricted to block commercial establishments. Pocket gardens and intricately detailed bushes create lovely landscapes.
The median home price in River Oaks is nearly $2.4 million at almost $500 per square foot. Ten-year appreciation stands at 85%. It is currently the most expensive neighborhood in Houston.
Along Kirby Drive, many homes are designed in American Colonial or English Tudor style. Lots can be more than an acre. The most attractive part of River Oaks is the scenic view of towering trees lining the streets.
River Oaks is home to the River Oaks Country Club with a golf course designed by Tom Fazio. The neighborhood boasts several municipal parks. The Houston Independent School District operates the public schools, and there are several independent private schools, including St. Thomas Catholic High School, River Oaks Baptist School, and The Kinkaid School.
Also, there are exciting restaurants, bars, boutiques, and art galleries in River Oaks Shopping Center.
Bunker Hill Village
Named as one of Forbes' Top Places to Live Well, Bunker Hill Village is the center of Memorial Villages. Located near Katy Freeway (I-10) and Sam Houston Parkway (Beltway 8), the small city provides terrific access to a wide range of restaurants, stores, the Energy Corridor, and Westchase Business District.
Home to tree-lined streets and peaceful homes, the neighborhood is highly desirable.
The median home price in Bunker Hill Village is around $1.8 million or $360 per square foot. Ten-year appreciation is about 63%. Large lots are the norm, with sizes ranging from 15,000 square feet to more than 50,000 square feet.
Home styles range from updated ranch-style houses to new custom homes. Older homes are between 3,000 and 5,000 square feet, while newer custom homes may be more than 7,000 square feet.
The Spring Branch Independent School District administers the public schools. Bunker Hill students can attend the National Blue Ribbon elementary, middle, and high schools. Several private schools are also open to students, including St. Cecelia School and Duchesne Academy of the Sacred Heart.
For shopping, there is easy access to the Memorial City Mall, with over 1.7 million square feet of retail space. Other luxury retail centers are nearby.
Piney Point
With a median home price of over $2.1 million, Piney Point is another exclusive neighborhood where the living is gorgeous. Like Bunker Hill, Piney Point is part of the Memorial Villages. The neighborhood is the wealthiest in Texas by per capita income.
Located near the Galleria and other fine shopping and recreational areas, Piney Point is zoned for Spring Branch Independent School District, an area of award-winning schools. Private schools are also available from St. Cecelia School and The Kinkaid School. The Houston Independent School District serves a small portion of Piney Point.
The community is made up of opulent luxury homes on sprawling lots that range from 21,000 square feet to over 160,000 square feet. Existing homes are updated ranch-style homes plus newer custom mansions.
Hunters Creek
Hunters Creek, where the median home price is around $1.9 million, is in high demand because of the central location, beautiful luxury homes, and excellent schools. The city is careful to maintain its wooded areas and preserve a tranquil charm.
Lying south of the Katy Freeway, it's just a few minutes away from Loop 610. It is also close to Downtown Houston and the Medical Center.
Lot sizes are about half an acre. The residential areas have long driveways as well as vast lawns and backyards. Another gem in Memorial Villages, its schools are administered by the Spring Branch ISD and Houston ISD, with access to private schools as well. It is a short drive to excellent shopping, restaurants, and nightlife.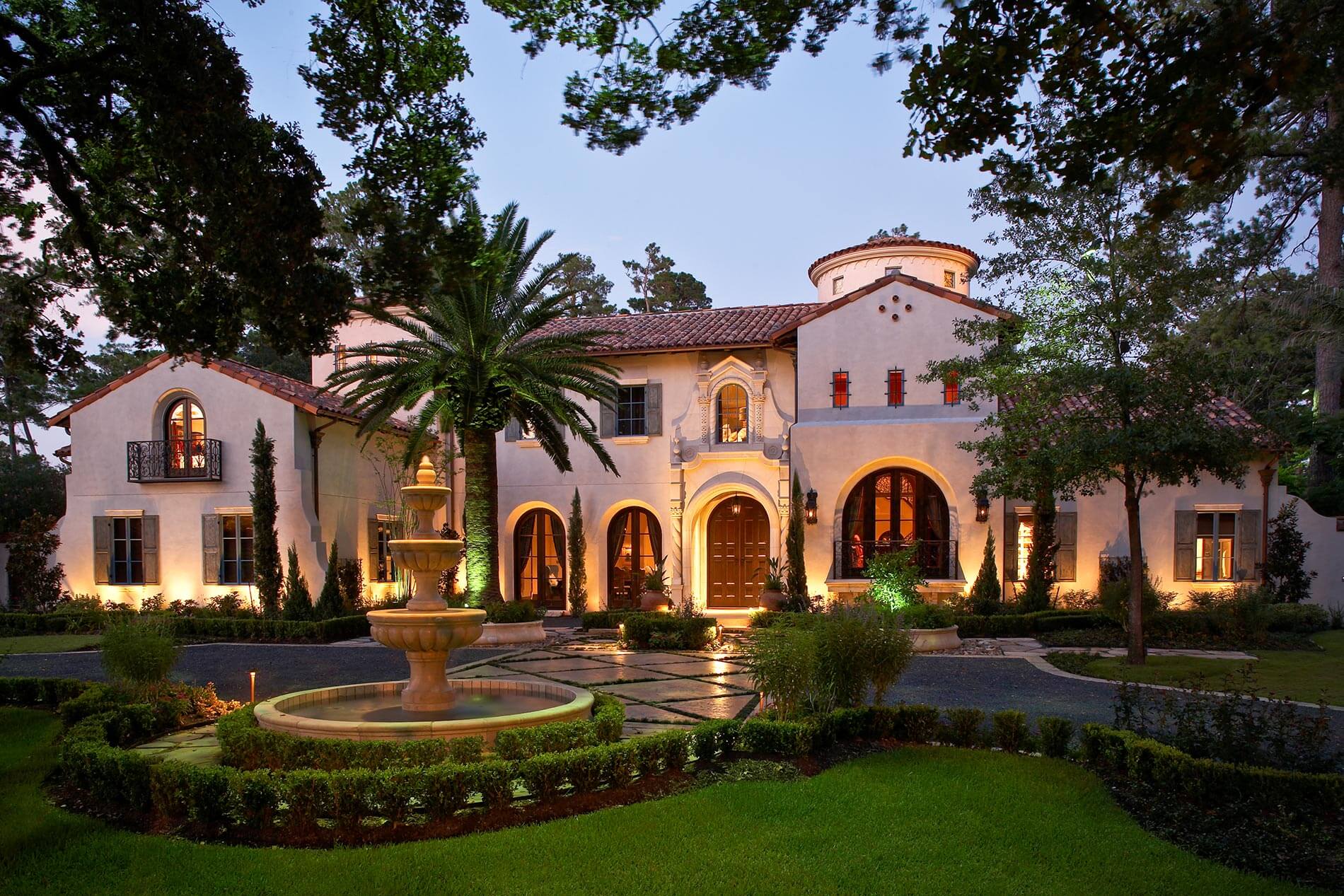 Memorial and Memorial Close-In
Memorial Close-In is nestled in the southwest corner of the Katy Freeway and Loop 610, while the Memorial area extends along Memorial Drive just south of I-10 from 6-10 to Beltway 8.
Median home prices in the area top $1.85 million and have appreciated 100% over ten years. The neighborhood is zoned for top-ranked Texas schools in the Spring Branch ISD. There is easy access to restaurants, entertainment, and parks including Houston's beloved Memorial Park. You can also drive to the Energy Corridor and the Galleria/Uptown in a few minutes.
West University
The median home price in West University is $1.2 million, and the city consistently ranks as one of the best of Houston's neighborhoods. New construction often sells for over $2 million. West U, as the locals call it, was named Number 1 in America's 50 Best Cities to Live by 24/7 Wall Street.
With an easy commute to Downtown Houston, the Medical Center, Greenway Plaza, and all the major highways, West University provides top-notch accessibility. An extensive park system, recreation, and Rice Village make up a beautiful neighborhood found just south of Southwest Freeway and just east of Loop 610.
Lot sizes are on the smaller side, as far as custom neighborhoods are concerned, and range from 5,000 square feet to over 20,000 square feet. Floor plans with four to five bedrooms are common. Schools, both public and private, are well-ranked. Also, West U is near Rice University. There are plenty of parks and open space, along with restaurants, shopping, and nightlife.
These are but a few of the exclusive communities Houston has to offer those who want to build their luxury dream home. Trees and large lots abound. Each neighborhood is unique in its design requirements and individual character.
If you don't find your dream property in one of the communities listed above, there are many more, including Southside Place, Afton Oaks, Crestwood-Glen Cove, to name a few.
Contact our team today and we can not only help guide you towards your dream property, but can build your family's dream home as well.